Collection:

LAURA SCARIANO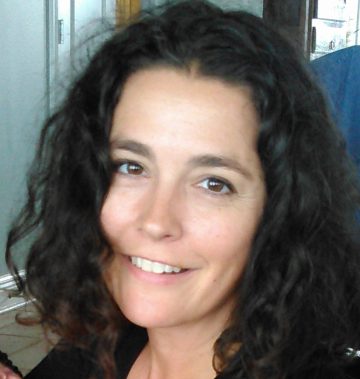 Laura Scariano (NOLA Bon Vivant) grew up in New Orleans and currently resides here.  She has been working with clay for over 20 years making functional wheel thrown pottery and sculptures.  With a background in design, she enjoys creating ceramic design pieces, such as lamps and mirrors.
Laura learned to hand build clay sculptures in college at the University of Pennsylvania.  Her first piece was a life size pair of blue jeans, from the knees up, which became part of a dance performance piece.  Hurricane Katrina sent the sculpture swimming and the blue jeans are resting underwater in the marshes along the northshore of Lake Pontchartrain.
After college, Laura learned the foundations of glaze chemistry at Greenwich House Pottery in NYC and also learned to throw on the wheel at various community clay studios in New York. "Perfection is boring," was the motto of her main mentor Larry Stern.
Laura's Rooster wall masks were created as she wondered why so many of us New Orleanians are fond of having rooster images in our kitchens. Is it because of our connection to France? The Gallic Rooster had always been a symbol of France, but Napoleon had replaced it with the eagle. Roosters as a symbol of France re-emerged as a result of the Three Glorious Days Revolution of 1830, prompted by the king's July Ordinances of exclusivity and extreme censorship. The Duke of Orleans became France's leader and put the rooster on flags and uniforms. The ceramic masks were hand built and then three layers of colored slip were painted on them.
All of Laura's wall décor pieces are hollow and can easily be hung on a secured, angled screw
Laura illustrates and silkscreens her design onto slabs with colored clay, then shapes and covers the art with a clear glaze. Inspiration is drawn from the culture of her hometown.  Laura's pottery is microwave and dishwasher safe and all the glazes are food safe.  She may be best known around town for the "Tata Teacups" featured in this pop-up.
Laura adores the Ogden Museum and donates a piece to their Magnolia Ball auction each year. She donated one of her round petal bowls that are featured here. These bowls are constructed of approximately 25 individual overlapping circles, a rather time-consuming process, that creates a lovely texture which is enhanced by beautiful variations in the glazes.